ATTENTION: ACCOUNTANTS looking for a simple system to get the important stuff done every day. 
        IMAGINE KNOWING EXACTLY WHAT TO FOCUS ON EVERY SINGLE DAY AND TRANSFORMING YOUR TO-DO LIST OVERWHELM INTO POWERHOUSE PRODUCTIVITY 
And you woke every morning knowing exactly what was next!
Many accountants know that being more organized and focused would help them grow their business faster, but there's a huge problem...
 The problem is they start their day with the best of intentions, only to hop from one task to another as their focus gets distracted remembering yet another task that seems to have slipped through the cracks..... and end the day in a world of overwhelm with no idea what to start tomorrow...
sound familiar?
IT'S NOT YOUR FAULT
• You are bombarded with information all day. 

• Your brain takes it in, but with so much to process it has trouble separating the trivial from the important and makes you dog tired!!

• That fogginess you feel at the end of the day? That's why!

• No wonder you can't remember #allthethings.
what if there was a better way?
Imagine leaving work on time and everything has been ticked off your to-do list!! Woohoo!!
Have time to attend all family events guilt and stress free!
Finally create the firm of your dreams, because you are in control of your time. 
or may be it looks like...
• You feel so in control of your business and your day, you are considering hiring team to go to the next level of growth.

• Every day you are working on your business, and achieving the goals you set for the day. 

• You've fallen back in love with your business, and no longer feel beholden to it. 

AFTER SLEEPLESS NIGHTS, CONSTANT STRESS AT FORGETTING THINGS AND BEGINNING TO LOSE FAITH THAT I WAS CUT OUT FOR THIS ENTREPRENEURSHIP GIG AT ALL, 
I cracked the code!
AND NOW I'M ON A MISSION TO SIMPLIFY #ALLTHETHINGS SO YOU CAN FOCUS AND GROW WITHOUT OVERWHELM.
 WHAT IF YOU COULD REMEMBER ALL THE IMPORTANT THINGS, AND KNOW WHICH ARE MOST IMPORTANT TO FOCUS ON, ACCOMPLISH WAY MORE IN LESS TIME AND NEVER HAVE TO WONDER WHERE TO START? 
Hiya! My name is Alycia Edgar
I'VE BEEN RIGHT WHERE YOU ARE.
I was a product of the "work more hours and get the results" era. What BS!! Working more hours does not equate to achieving better results. I had to find another solution. With a young family to look after, never mind the exhaustion and lack of sleep, more hours in my accounting firm wasn't a sustainable option.
But I discovered the simple way to be super ORGANIZED in my business and get the important stuff done without working more hours or implementing a convoluted software program.

I'm on a mission to boost productivity and profits through implementing simple systems.

As a former accountant/business coach turned digital marketer. I've been in the business world for over 20 years and marketing for over 10 years. I've implemented many of these systems with clients and now focus on creating marketing systems for clients. 
HOW WOULD YOUR BUSINESS BE DIFFERENT IF YOU COULD:
• Feel organized and effortlessly work on tasks knowing that you have everything under control

• Have one source of truth, a place that you go to everyday that has everything you need to run your business right there in front of you 

• Land a new client and know categorically that you'll meet the delivery deadline along with the other client projects already in the works

• Have a handle on all your business expenses, when they're due to be paid or debited, in a simple visual format even if you are so busy focused on everyone else's finances!

• Launch that new project on time and to plan because you finally have time to focus on your business growth projects

AND YOU DIDN'T NEED TO:
• Work extra hours and suffer from exhaustion, each hour is way more productive

• Purchase new apps or planners, as you now have a system that keeps you on track

• Dread what the day will bring, you wake knowing exactly what's on your agenda and know you can get it done

• Waste time searching for important information and fall down a rabbit hole, instead it's all in one place, at your finger tips
NO LONGER MISS OUT ON NEW CLIENTS
With this system not only will you be more organized but have the clarity and headspace to ensure you take full advantage of new prospects coming your way. No more missing out on new clients because you're too busy and overwhelmed to take them on board. 
NO LONGER BE GLUED TO YOUR SCREEN 
Having your business shizz all sorted and organized, allows you to step away from your business when you want and know it's all under control. The freedom to live your life the way you want.
NO LONGER SECOND GUESS YOUR DECISIONS
When you're no longer overwhelmed, decision making becomes so much easier. You won't waste a tone of time and energy and headspace making a single decision because it's all already sorted.
x
A UNIQUE SYSTEM OF 10+ CONNECTED TABS THAT KEEP YOU ORGANIZED AND FOCUSED ON THE TASK AT HAND WHILE KEEPING ALL PERTINENT INFORMATION JUST A CLICK AWAY.
ONE PLACE TO CONTROL EVERYTHING.
SPREADSHEET VERSION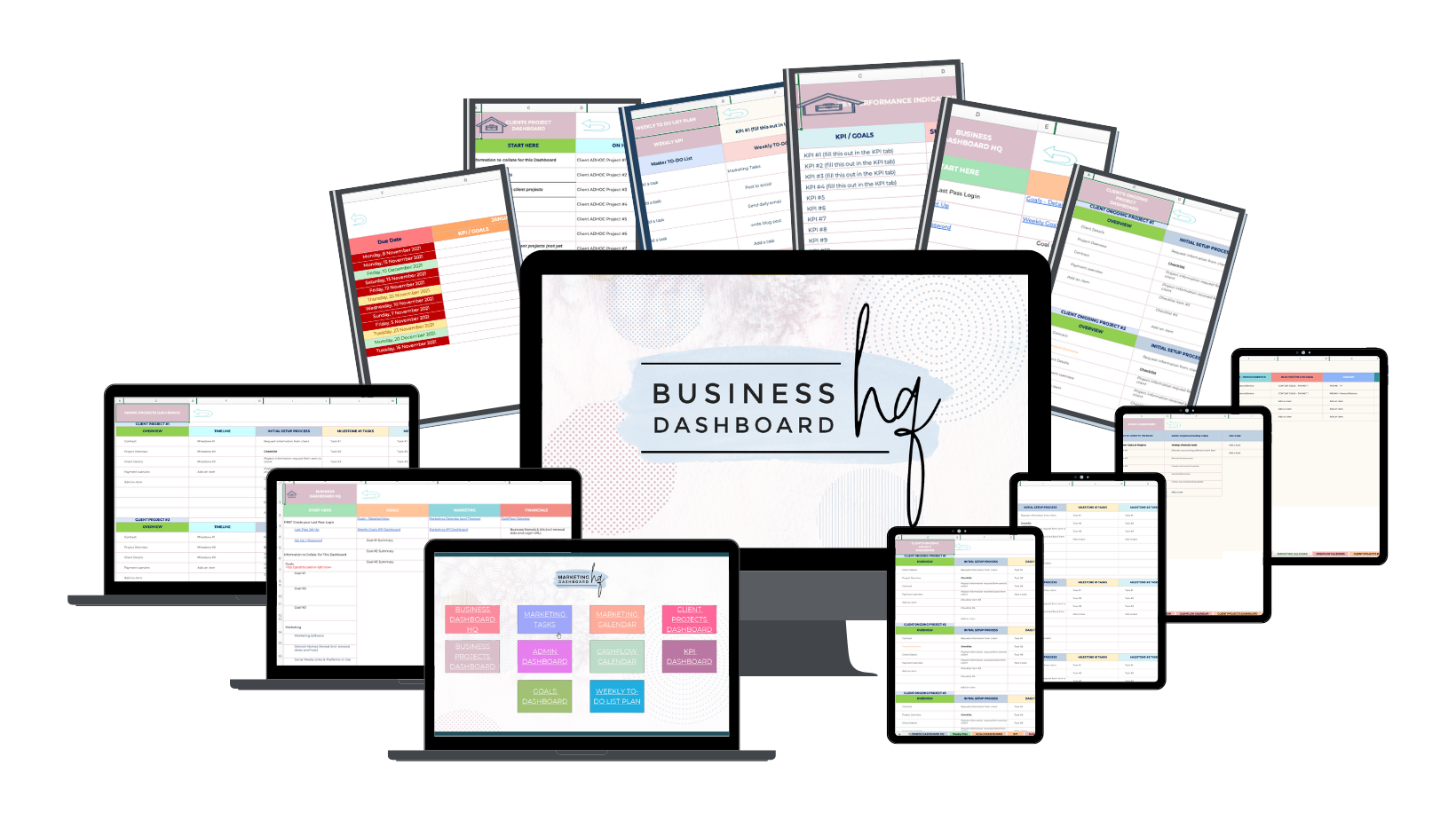 YES! I WANT A BUSINESS DASHBOARD HQ >>
One time payment of $9
HERE'S A SNEAK PEEK OF THE TEMPLATES: 
YOUR OWN BUSINESS DASHBOARD HQ
A template that collates all your business information in one place. A single source of truth. It's also been designed as a Board that connects to other boards to keep your business super organised and on track. Information sources include - strategic goals, marketing, financial and projects.
BOARD-ON-BOARD SYSTEM  TRAINING
Step by step training walking you through each Spreadsheet TAB within the system and how to implement in your business. Includes a checklist of all your business information sources that you'll need to collate once, and forever find again.
MANAGE WHAT YOU MEASURE
Want to make real progress on your goals? It all starts with the daily actions, and regular measurement. Measure your goal actions, marketing and sales KPIs and your month on month comparisons with this template. 
SUCCESSFUL GOAL REQUIREMENTS
While the business dashboard puts your overarching monthly or quarterly goals front and centre, the detailed goals template goes into all the nitty gritty. Actions required, indicators to measure and also your big kahuna annual goals. To give you the best chance of achieving them. 
YOUR CLIENT PROJECTS HQ
A high level summary view of all client projects, possible and current. Including due dates and links to each detailed project template. 
SUCCESSFUL CLIENT PROJECTS
Client projects always have detail that needs tracking, tasks, milestones etc. Both an adhoc and ongoing individual client project template are available to manage each client project.
YOUR MARKETING MAP
Map out your monthly content themes, the product or service to promote, and the content ideas to bring that to life! And keep track of them all in this month by month template.
PLANNING IS THE KEY
Want a way to capture those adhoc things that must get done ASAP? They really can get forgotten unless you have a system to capture them until they need to be done. This template allows you to capture and then allocate within your week.
BUSINESS GROWTH SUCCESS
A summary view of current business improvement/growth projects and progress. This template also includes an "ideas' section to house ideas for improvement. 
VISUAL CASHFLOW CALENDAR
Keep a track of weekly, monthly, quarterly and annual income and expenses including their $ amounts and regular payment date. Includes a monthly calendar view in this Trello™ board.
MARKETING ON AUTO PILOT
The regular marketing tasks you need to do on a daily, weekly and monthly basis. This template also includes a "future campaigns' section to collate other marketing ideas. 
KEEP ADMINISTRAVIA IN CHECK
Admin is a necessary evil in business, and sometimes it can fall by the wayside. Keep it all in check with this dedicated template.
Spreadsheet version
One time payment of $9 
10+ TEMPLATES

that work together as a unique connected system to keep you organized and in control of your business.
All the templates are connected, creating just one place to manage your entire business!
lock in this great price while you can
When you click on the "Yes, I Want Business Dashboard HQ!" button you will be directed to the checkout page, where you can enter in your payment information directly.

This is a special offer that will go up in price soon. Don't miss out on this opportunity!
WHY SHOULD YOU TRUST ME?
I use this exact system every day and I've lived and breathed productivity. I've been where you are. I had a growing accounting business that became a nightmare. I wasn't sleeping and I was forgetting important things. Great opportunities came my way, new prospects were reaching out, but I wasn't coping, I didn't get back to any of them. I knew I had a problem, so I found a solution.


After careful scrutiny of my business I realized I needed SYSTEMS. I spent time and money learning about other peoples' systems. I developed and tweaked them into my own. After some trial and error, I knew I had cracked the code. I started to see excellent results implementing these systems in my business. 
Each time I implemented a new system I started to enjoy new results in my business, such as:
• An increased client base of 66%
• Doubling of my revenue
• A new peace of mind– no more waking up at 4am!
• Developing lucrative joint venture relationships
• More time for my family
• No more feelings of guilt about taking a day off
NOW I KNOW WE MAY NOT KNOW EACH OTHER VERY WELL BUT I WANT YOU TO BE 100% SATISFIED
I'm a small business owner just like you, and I understand the risk you feel when deciding to invest in something online. 

I'm very proud of what I create and I know that anyone who purchases and implements the system will be very satisfied.

That's why I'm offering a 7 day money back guarantee. While I can't guarantee you'll grow your business 10x by implementing this system, I can guarantee the quality and practical application of the templates. 

 You will be more organized and save time in your day by implementing this system.

 Of course, if you're not happy with this system I will refund your money within 7 days of purchase.
DISTRACTION DISRUPTER TECH CHECKLIST

You don't want the tech in your life to distract you from your goals once you're totally organized. This Tech Tricks Checklist has 10 simple steps you can take to calm your tech.   
NIGHTMARE TO NO PROBLEM INBOX MINI COURSE
Is your Inbox a nightmare? Even when you're super organized and focused on your business goals, it's really easy for email to get out of control. This 8 Page eBook mini course will help you manage your inbox once and for all with tips to "maintain" for the future.
PRODUCTIVITY ROYALTY MORNING ROUTINE
If your mornings are a mess, you need a new routine. Having a superb start to your day can skyrocket the energy you bring to the rest of your day. This 1 page checklist gives you the morning routine to start your day in a productive manner.
BUSINESS DASHBOARD HQ
Keeping you organized and in control of your business 

 NEW Spreadsheet-Excel & Google Sheet(Value $297)
Productivity Tech Tips. . . . . . . . . . . . . . . . . . . . . .(Value $97)
 Manage Your Inbox eBook . . . . . . . . . . . . . . . .(Value $197)
Morning Routine Checklist. . . . . . . . . . . . . . . . (Value $97)
  Lifetime Access and free upgrades . . . . . . . .(Value $197)
SPREADSHEET VERSION NOW AVAILABLE
""Business Dashboard HQ is the most comprehensive Trello™ board system I have seen! I've wasted so much time in my business over the years, searching through old emails for links and logins, not properly tracking or reporting anything, and just generally being disorganised. What I love about the Business Dashboard HQ is that you have a basic foundation for getting organised and having everything you need in one spot, but because of the flexibility of it, you can add, arrange, and move around the dashboard to suit your needs and even link it to boards you already use. Such a brilliant idea and it takes all the guesswork out of how to get organised in my business so I can focus my energy where it matters - on my clients!""
KATHERINE MACKENZIE SMITH
INTROVERTS ELEVATED
""Before Business Dashboard HQ I had no system at all. I had 5 different Trello boards, too many Google accounts with documents stored and shared all across them. I'd put stuff (content, strategy, research, receipts, you name it) in a Google Drive folder that I thought I named in a way that would allow me to find it, only to never see it again. I'd love to spend more time creating than searching for stuff. I wanted to be able to really plan and be able to easily put my hands on the information I needed to do it the right way. I did NOT want to invest a ton of time in learning yet another new app or software that wasn't going to work for me. This system is based around Trello which I know and love. I always felt like I could make Trello work for me if it was set up the right way. And then I saw Business Dashboard HQ, and I had to have it! All aspects of my business are connected in a magical board in board system. It's easy to get started. I can find everything. It's logical. And I can customize it so it makes even more sense for my business. LOVE!!! I'm saving massive amounts of time because it truly is the HQ for my business. Planning is fun and productive instead of something I dread. I can't wait to see what a difference it makes longer term because Business Dashboard HQ shows me more value each time I use it.""
ROBIN CARBERRY
ROBIN CARBERRY COACHING
""I love systems but my business info never seemed to be organized and easily accessible. It seems like I need to login to half a dozen different SaaS programs. I wanted to see if I could really have all of my business info in one place that made it easy for me - and my contractors to access. The board in board system is brilliant! The dashboard is easy to navigate and now all of my business information is connected and just a click away. Everything flows so well. It's both intuitive and genius! It's so much more usable than the random one-off templates that I always think are going to do the trick and then stop using after a couple of weeks.. Now I have a true business dashboard that truly is the headquarters for all my essential business information - from goals to financials and everything in between.""
GRETA CATE
CONVERSION COACH AND CONSULTANT​
WHAT ARE YOU WAITING FOR?
 BUSINESS DASHBOARD HQ
Keeping you organized and in control of your business
 NEW Spreadsheet-Excel & Google Sheet(Value $297)
Productivity Tech Tips. . . . . . . . . . . . . . . . . . . . . .(Value $97)
 Manage Your Inbox eBook . . . . . . . . . . . . . . . .(Value $197)
Morning Routine Checklist. . . . . . . . . . . . . . . . (Value $97)
  Lifetime Access and free upgrades . . . . . . . .(Value $197)
NEW SPREADSHEET VERSION NOW AVAILABLE
frequently asked questions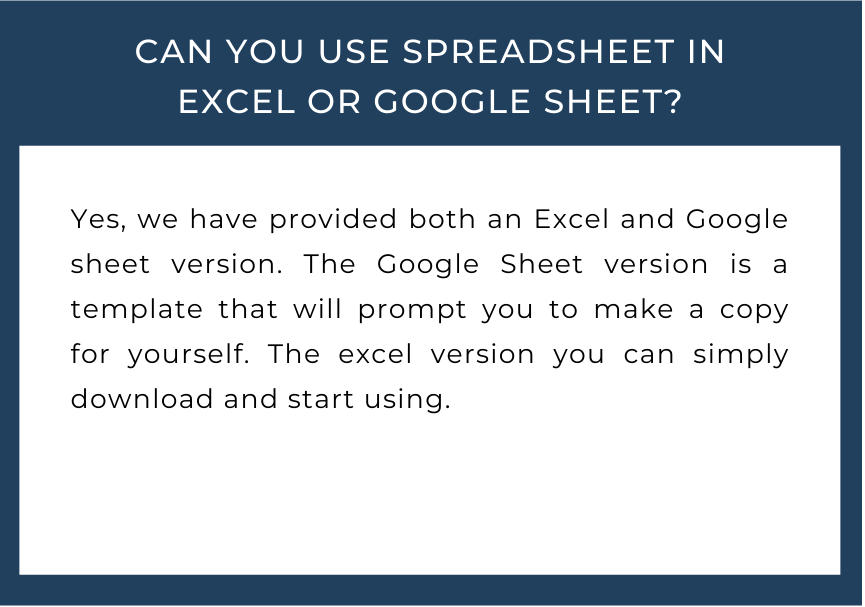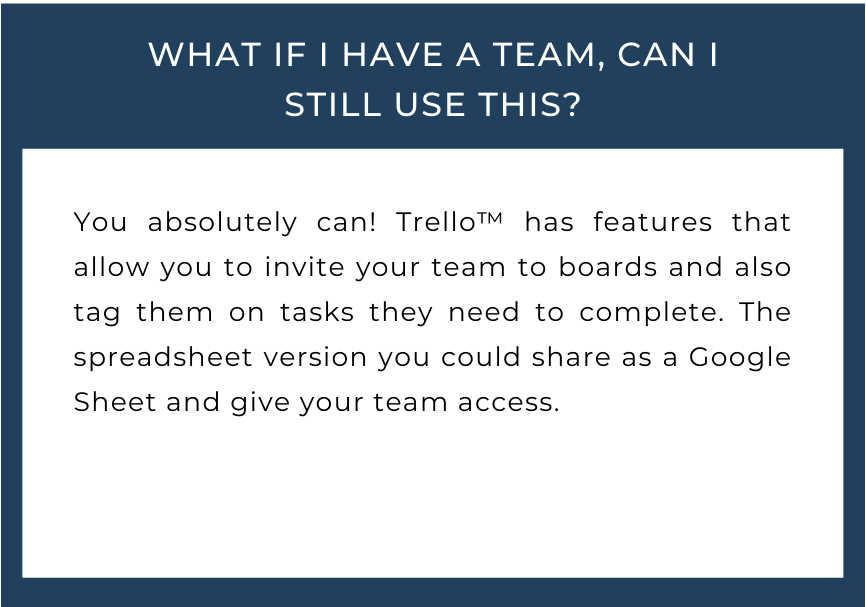 BUSINESS DASHBOARD HQ
Keeping you organized and in control of your business
NEW Spreadsheet-Excel & Google Sheet(Value $297)
Productivity Tech Tips. . . . . . . . . . . . . . . . . . . . . .(Value $97)
 Manage Your Inbox eBook . . . . . . . . . . . . . . . .(Value $197)
Morning Routine Checklist. . . . . . . . . . . . . . . . (Value $97)
  Lifetime Access and free upgrades . . . . . . . .(Value $197)
NEW SPREADSHEET VERSION NOW AVAILABLE